Brass of the Saff
How Drum and Brass worked with the families on the Saffron Lane Estate in Leicester to create a community brass band.
"Last Christmas it was lovely, it felt like a real community"
– Porsche Antwi
Impact of The Brass of The Saff
In 2019 Brass of the Saff received a £29000 grant from Youth Music. 
Over 2 years the project funded 3 staff members, travel, visiting artists and online sessions when Covid hit.
In total, we worked with 60 children who live on the Saffron Lane Estate in Leicester. Families had had no previous access to music-making of any form prior to the Brass of the Saff forming.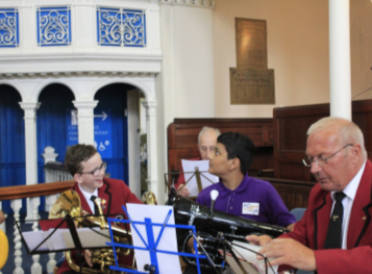 How it began – WIGSTON HORIZON BAND 2012
Challenge
The players of Wigston Brass Band's existing training band progressed far enough to perform and compete, but not to support beginners.
Objectives
To find a way to bring new players on without neglecting the progress of more experienced players. 
Solution
The Horizon Band was formed by Julie Maxwell. She recruited from local schools, offering children 10 free starter lessons in small groups. They joined the band when they could play 3 notes. The band is still going strong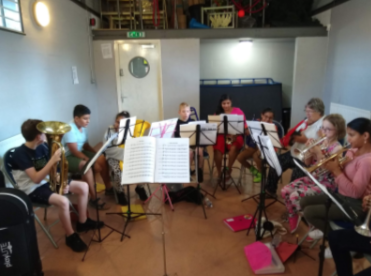 Brass in the inner city – BRASS OF THE SAFF 2015
Challenge
Children on the saffron Lane Estate in Leicester had no access to music outside whole class teaching. Families also faced socio-economic challenges.
Objectives
To use brass plaing to generate a sense of local pride and confidence. 
Solution
The Brass of the Saff was developed by Drum and Brass with local families. The players gained  qualifications and acted as peer mentors. "I loved helping the younger ones" Pardeep Bassi (12)
D+B brass bands put music at the heart of our communities
Affordable

Accessible- all welcome

Lifelong – 8 to 108+

Local 

Serving the  community at fetes and celebrations
Music empowers us
New skills, new networks, new knowledge. Playing in a band helps us shape our community for tomorrow. The way we want it.
ABRSM Music Medals, TRINITY Arts Awards and Drum and Brass early-stage badges
60
Number of 1st generation brass players
36
Number of qualifications achieved
£230
Cost per player per year
111
Number of social media followers