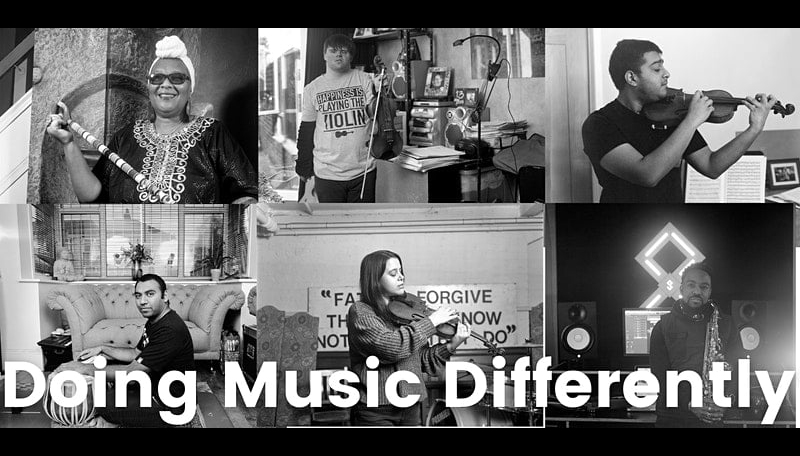 "As it currently exists, the classical music world is … suffering from a perennial and pervasive diversity crisis" Chi-Chi Nwanoku
Music plays a huge role in our modern world and it all starts with people like you. Whether you play or teach an instrument, manage a band, orchestra or music group, you are at the forefront, getting players involved, coaching and educating, programming performances and bringing audiences together.
This event is about how to open our doors wider and embrace ideas and players in order to bring music-making in line with modern society.
With speakers Dr. Helen Minors from the Kingston School of Art, Carol Leeming MBE and guest workshop leaders, Drum and Brass are proud to invite you to this event which explores practical and equitable ways to do music inclusively.
Aimed at musicians, music teachers, music organisations and anyone with an interest in music-making, including those who may face barriers to doing so, the event aims to spark ideas and energy throughout the musical community.
This is equally an opportunity to meet colleagues, network and play, so bring your instrument and/or your voice.
Lunch will be provided for all delegates.
Programme
9.30-9.45 Arrival, sign in and coffee
10.00-10.30 "Doing Music Differently" intro and welcome by Drum and Brass director Julie Hoggarth
10.30 – 11.00 "It starts here" – Davina Vencatasamy invites you to reconnect with your inner musical child
11.00 – 11.20 Coffee
11.20 – 12.30 "Going off-score" Helen Minors leads a practical session around working inclusively with groups and individuals
12.30 – 1.15 Working lunch
1.15-1.25 Intro to afternoon workshops
1.30 – 2.30 "Completely Enveloping" – Leonie DuBarry Gurr opens to door to letting the music happen
2.30 – 2.45 Tea Break
2.45 – 3.30 "Prabandh" join Hari Trivedi on a practical journey to the roots of Indian Classical music
3.30 – 4.00 Carol Leeming closes the event by reflecting on what it means to embrace our musical differences
No Bars_Music is sponsored by the funding from the Leicester Castle and Eyres Monsell wards, with the kind support of Curve Leicester.