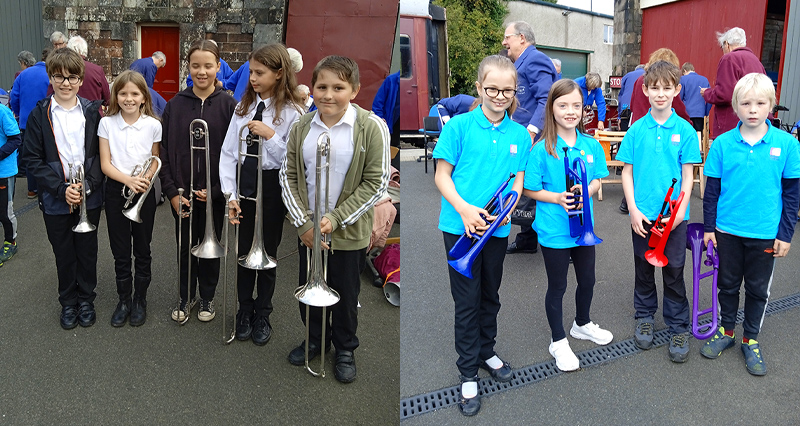 Visitors to the platform of Kirkby Stephen East on Saturday 24th September 2022 now know that two pieces of heritage are still very much thriving in modern Cumbia: brass bands and railways.
They witnessed the premier of "BRASS DRUMS TRAINS" by local composer Jilly Jarman. This performance combined the eloquence of the brass band with uplifting samba drumming and the drama of spoken word in a piece that vividly evoked the steam era. "Stainmore Railway Co. was therefore the natural choice for this event and the staff were amazing hosts" says Jilly Jarman, composer.
The event was equally a celebration of Cumbria's brass bands, which are currently enjoying a renaissance. Some 40 players took part, aged 8 to 80, some virtual beginners, some with years of experience, representing Kirkby Stephen Silver Band, Appleby Town Band, Burneside Band and Melody Makers from Tebay.
The big take-away was how uplifted people felt after the event. Audience members were full of admiration for the piece and the players. Young players commented that they "loved hearing how all the different instruments came together". Seasoned performers were thrilled to see so many newcomers to brass and everyone (except perhaps for Barras, the station cat) enjoyed being part of the samba! Further events are already in the calendar.
The project was commissioned by Nicola Estill of the Westmorland Dales Landscape Partnership Scheme, who was delighted with the outcome. Her vote of thanks acknowledged the creative ambition of the music and the sheer logistics of this cross-Cumbria collaboration. She warmly praised the whole concert which featured music from BlueJam's Young Composer Scheme, from the beginner brass groups and a rousing samba finish with BJamba Horns.
"BRASS DRUMS TRAINS" is a Heritage Lottery project commissioned by the Westmorland Dales Landscape Partnership Scheme, led by Jilly Jarman from BlueJam Arts and Julie Hoggarth from Drum & Brass.
For more details about the organisations involved please go to their websites:
Blue Jam Arts: bluejamarts.org
Westmorland Dales Landscape Partnership Scheme: friendsofthelakedistrict.org.uk
Stainmore Railway Co.: kirkbystepheneast.co.uk