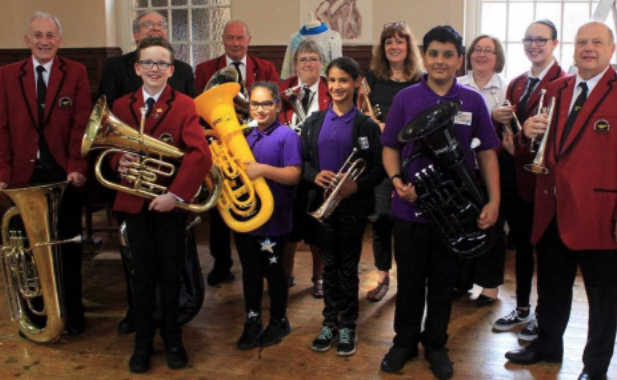 Written by Julie Hoggarth
In the run up to "No Bars_Music" exhibition at Bishop Street Methodist Church, opening Monday June 21st 2021, D+B director Julie Hoggarth explores some of the barriers to music-making and ways to overcome them.
This article will discuss music and inclusion in Leicester: one of the UK's most culturally diverse cities. I'm looking specifically at traditional, non-electronic instruments, as played by the musicians featuring in the No Bars_Music exhibition.
By inclusion I mean issues around colour, culture, ability, gender and especially class. I present local data within a broader national and historical context and I'll ask the questions – How inclusive is music-making today?
– Why are things this way?
– How can we make change?
First, I'll put myself in the picture. This article is born of my own 20 years in music-making. Starting at 38, storming through the grades (enthusiastically but increasingly with more haste and less reflection) alongside my children I felt and still feel inadequate as a player (the more I practice, the worse it gets – what's that about?). I'm nevertheless passionate
about getting people involved in music-making. To create harmony together, to build a sound and breathe together is a wonderful feeling that I want to share. It's always seemed like an odd sort of world however and the sharp lessons of Black Lives Matter have coincided with this exhibition in ways that I did not anticipate. There is at long last a national interest in making change, as evidenced by the work being carried out e.g. by EDIMS, MusicMark and Brass bands England.
The primary aim of this photographic project was to show the young players with whom I was involved in "the Brass of the Saff" that there are adult musicians who look like them. It was not hard to find these players and many of them I have worked with myself. I interviewed them all out of curiosity about their own experience of instrumental playing. The results were intriguing and often challenged me. Quotes from those interviews are included here and the full interviews will appear on the website www.nobars_music.org.uk on June 21st 2021. Podcasts with Hari Trivedi, Malcolm D'Sa and Sheila Allen are also part of Drum and Brass's @Soundsof … series. You can find these here.
I also surveyed musicians from across the UK via facebook and other networks. A full analysis of the surveys and interviews will be the subject of a later article. For now… How inclusive is music-making today?
I have regular arguments with my friend about this. She does not see the problem, saying that there are black trumpet players featured in the music she loves to listen to. I was not able to answer her until saxophonist Marcus Joseph posted two images of his own musical education experience. As the only black person in the LSSO and concert band, his feeling of isolation completely put him off classical music, even though he shone musically. He turned to jazz for solace but in fact the same situation prevails. Now a director of The Leicester Jazz House Marcus says "I'm the youngest member and only black person in the organisation".
This situation is reflected nationally, but why?
Why are things this way?
Anna Bull's enlightened book "Class, Control and Classical Music"argues that the cultural appropriation of musical instrument playing began with the promotion of middle class respectability and aspiration in Victorian times.
It feels that Victorian attitude thrives to this day in Leicester if we cast a glance across Leicester's music organisations. Despite the city's diverse populations, many young people
growing up in the inner city have no access to playing a musical instrument. Some will access Whole Class Teaching packages offered by the LeicesterShire Music Education Hub. These short-term programmes are aimed at fulfilling national requirements – with the expectation that young people who want to continue will progres to private lessons. The LMEH receives a grant of £4.5 million from the Arts Council each year, but makes little impression in the city. They are working hard to change this but are fighting against a middle class nostalgia for the days when Malcolm Sargent and Andre Previn were part of the Leicestershire schools music scene.The dream of music as a passport to the middle class is – in my opinion – the biggest barrier to change.
Partly of course, social changes over the last century have seen a move away from participation in music-making (in the home and in the community) to a consumption model, with records, radio, TV and film and lately games becoming the key ways to access music. Over the same period, institutions such as the ABRSM monopolised instrumental playing and set up their own high barriers in the form of the grade system which is expensive and, frankly, intimidating. It also venerates solo playing so that the group playing experience, which is so much more common (and enjoyable!) becomes a side issue. For many parents, the grades are the incentive to having to put up with the noisy and often painful process of their children learning to play. The grade certificate is a clear mark of progress up the class ladder. The antidote to the lonely progress through grades (no wonder many of the musicians interviewed cited their music teachers as their prime role model when growing up) is to play with others and most of the musicians I spoke to had the most positive memories of their school music groups. All of them still play as part of a group and rarely alone. Nevertheless, should anyone be reading, Alan Tang is in the market for a concerto, to experience the drama of the orchestra Goliath 'versus' the soloist David. In defense of the status quo, I often hear the argument about quality. One band leader I spoke to argued that it would be unfair to admit a black player as they probably wouldn't have the quality to keep up with his demanding group. Another brass player argued as a boy he never had to be pushed and was sufficiently motivated and resilient to take criticism and ride the waves of success and disappointment.
But let's remember that for most of us, music is supposed to be enjoyable. We do it for pleasure and camaraderie. And no-one goes into a rehearsal and does not try their very best. So what is this quality? Who decides? Is it being able to play fast? High? Accurately? We are all expert at rating our own quality (It's always lacking). In interviews many of the
musicians from the exhibition said they wanted to play with musicians with equal or higher skills than themselves. Pity the poor "lesser" players. Conversely, the musicians also wanted the chance to try new things and make mistakes. They wanted clear leadership but were put off by personality clashes or egotistical behaviour. These points indicate the conflict inherent in music-making today. Musicians growing up in the traditional system crave leadership and "quality" from their colleagues, yet they also want freedom to explore, have their voice heard and permission to fail on occasion, and not to be the best in the ensemble.
Similar sentiments were expressed by classically and non-classically trained players alike. , Interestingly, few musicians spoke about their audiences, so I was fascinated by Irina Muha's account of the "world music" scene. Audiences here expect to hear unusual and unfamiliar sounds. It is nice to think of a space where the western music tyranny has no place!
I have had the feeling that music, that should/could be an enjoyable community asset in which anyone can participate with voice or foot-stamp, has been barricaded into a fortress of hard work, discipline, self control, misery and humiliation. Thanks ABRSM! Anyone seen Whiplash? Playing an instrument is akin to a religion of the hairshirt variety; ecstasy only coming to those who surrender their souls. (it's the case for all the arts. Mere enjoyment is not enough. You must suffer to succeed).
How can this be right? When little children sing songs with their parents are they not being musical? Where's the music that Carol Leeming talks about; the spontaneous gatherings in family homes, where people riff on traditional themes with tin cans and voices and "adults enjoy themselves"?
In a small working group with Brass Bands England I've been questioning inclusion and equality for a couple of years now. There are similar groups having similar conversations in many other organisations such as the EDIMS Network (Equality, Diversity and Inclusion in Music Studies) and BAMT (The British Association for Music Therapy). Our first observation was amazement at how much there is to do, given that it is 2021.
Brass bands seem only recently to have welcomed women on a wide scale (see BBE's Women in Banding survey) and there are very few black brass band players. The situation in other instrumental cultures is similar. Mellow Baku cites an underlying sexism in jazz, and at a NYJO event in 2019 we saw no women and only one black musician. There is a smattering of what we might call 'minority-specific' groups nationally. Pride Brass is out and
proud and thank goodness for that. There are female-only brass bands and orchestras for disabled players, but these are few and far between and the music scored for such groups is conspicuous by its absence.
And it is easy to argue against change in music. Instruments are expensive (except they don't have to be. I know of several schools in Leicester with a cupboard full of unused instruments). Instruments are hard to learn (as is driving a car, but most of us manage it). The fact is, music is part of our lives. It is in our pulse and our walk and in our speech patterns. Some people are always going to be great at things but that doesn't mean everyone has to be. Being naturally gifted at something should not be a prerequisite for being allowed to do it. The Stig for instance is great at driving but it doesn't mean the rest of us have to take the bus.
How can we make change?
Change is afoot, and in a number of ways. Training, e.g. unconscious bias training, is one option that can help organisations to open up about the issues of exclusion. Organisations might also look to tools such as Youth Music's EDI's self-assessment audit. Although we used the tool with grassroots music groups and were left feeling baffled and patronised. Youth Music admits it needs updating. We await progress. Again, though, the tools are only really prompts. What we need is conversation.
The Arts Council favours collaborative projects which bring diverse groups together. This can work. Drum and Brass is the product of just such a collaboration. We don't play together very often but when we do, it's great. And the Arts Council has funded a lot of our work, giving us time to talk about every aspect of music-making, getting to know one another and building understanding of our different cultures and approaches in the process. So change happens when conversation happens. The conversations allow us to change lanes, see things from another angle.
These lane changes are not happening in schools, although they could and should. Given that most children in Leicestershire grow up within the same education system, the demographic mix seen in our schools should be reflected in the city's adult music organisations. Study is needed to find out why this is so. It might be to do with the perceived link between instruments and classical music, and classical music with 'the establishment'.
Some grassroots organisations are tackling this, and I would argue that they deserve more support than they currently get. Young people in Highfields can learn rhythm and jazz techniques with Cosmopolitan Arts at the Afro Caribbean Centre. This local-focused approach is perfect for the area. Drum and Brass's Brass of the Saff – a youth band on the Saffron Lane Estate – ambitiously aims to build bridges between the local community, the music hub and the local brass band. This partnership model makes the most of the available resources and keeps music rooted in the community.
The Woodgate Music Programme near Frog Island has offered subsidised music lessons to inner city players over two decades now. With players of East European and Asian heritage it clearly demonstrates the long-term demand for instrumental learning in a modern multicultural city.
So children from diverse communities are learning to play instruments. They are doing well and are committed.
The next challenge is to ensure they go on to play in Leicester's adult orchestras, bands and jazz groups.
The question of "progression"
Many many young musicians give up when they hit adolescence, or if not then, when they leave school. There's a gap between youth and adult music-making. This is being addressed, e.g. by a number of national initiatives such as the excellent work of the London Philharmonia. For many young people however, London is another country. They need more stepping stones locally, in order to visualise the journey to becoming an adult musician – whether amateur or professional.
One project: a collaboration between Woodgate, Drum and Brass, The Leicester Symphony Orchestra and Armonia, a private music school in the city, looks promising. The premise is very simple (although as with many plans, Covid has slowed down the progress considerably!). The orchestra will invite young musicians to join in open rehearsals once or twice a year, with some players taking part in a joint concert at a major city venue. This will brings players and organisations together to create a real network for change. And ultimately, face-to-face encounters and conversations between players should gradually effect the changes we need to see.
In the long term, the barriers which keep orchestras and bands hiding away in their fortresses are the same as the ones that keep audiences away (it's not meant for me) and
composers from daring to think differently (I will be ridiculed). These can only be eroded gradually through familiarity and growing understanding. It won't happen overnight, but it is worth making more of an effort to instigate those first encounters.
Hopefully some of them will take place at the No Bars_Music exhibition and if you want, why not start here?I welcome all your comments! It's only by conversing, challenging and sharing that we can make music relevant to our modern society.