It started as a celebration of the 70th birthday of Geoff Forse who has managed the Woodgate Resources Centre for over 30 years, many of them as a volunteer.   He has ensured that people of all ages have had access to music lessons – learning a range of instruments: guitar, violin, keyboard and even djembe drumming.  Julie Hoggarth from Drum and Brass put together a Crowdfunding campaign, and music teacher Helen Butterfield brought children and adults together to create an orchestra.  This diverse group of people played in a concert for Geoff at Bishop Street Methodist Church back in October 2021.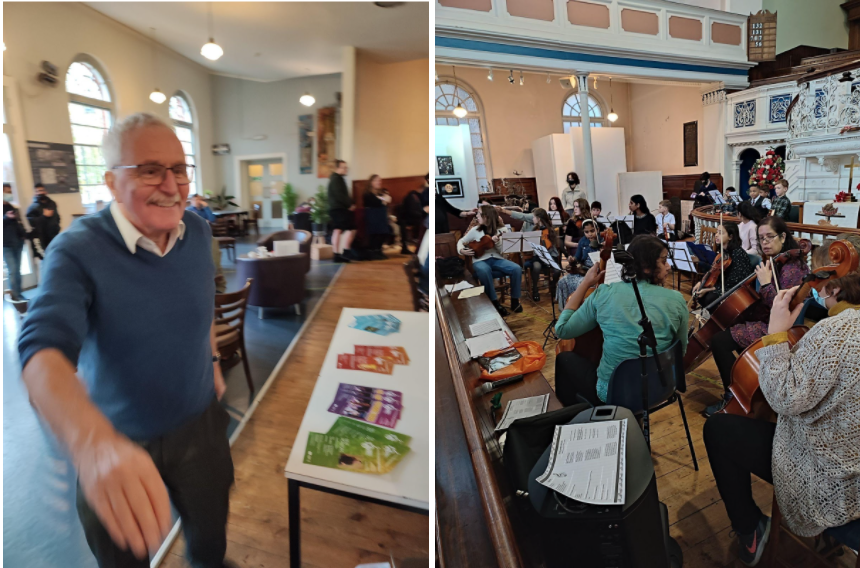 Helen is a member of the Leicester Symphony Orchestra and she and Julie teamed up again to plan a musical project called "Film Tracks".   Julie applied for a grant from the Leicester City Council's "Cultural Ambitions Fund" and from this the Drum and Brass "No Bars Orchestra" was born! More than 30 young people and adults have joined "Film Tracks" and they are going to perform at De Montfort Hall on March 5th, before the LSO's performance of "100 Years of Music at the Movies".
The enthusiastic response of the community has made it very clear that there is an appetite for a city centre based orchestra for musicians of all ages and abilities.  The directors of Drum and Brass intend to do all they can to secure funding to continue this project and establish a truly inclusive orchestra for Leicester.