This project is the brain child of Hari Trivedi who wanted to create a project that researched the roots of Indian Classical Music. We are excited to be working with a strong team of experts.
What is Prabandh?
In this project we will work with communities in the UK and Northern India to research the medieval Indian classical music form of Prabandh. A project calling on artists / music lovers internationally to be a part of preserving, learning and growing a rich heritage and lineage of Indian Classical music called 'PRABANDH', the pre cursor to Dhrupad and Khayal. There is an urgent need to capture what we can of this artform while the few masters who can pass on their knowledge are still with us.
The project will entail: 
involving a community of UK musicians from all genres in music research via online discussions with experts in North India involving

learning Prabandh and teaching it to musicians with a chance to perform!

researching the music in the 14c that was being played in the West and draw comparisons

the creation of a digital research hub as a repository and platform for sharing the research process and findings

raising awareness of this precursor to modern Indian classical music within the modern context of the decolonisation of music
Listen to our podcast with Pritam Singh who talks about the Prabandh project in some more detail:
Prabandh YouTube Playlist
Prabandh YouTube Individual Videos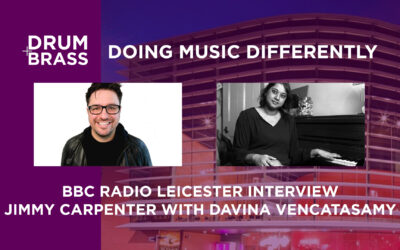 Transcript of Drum and Brass director Davina Vencatasamy's interview with Radio Leicester's Jimmy Carpenter about music, inclusion and the Drum and Brass conference
read more
Pritam is the leading disciple of Sri Ajit Singh Mutalshi and has also studied with the great late, Ustad Allah Rakha Khan of Punjab Gharana and continues his learning with Pt. Anindo Chatterjee of Farukhabad Gharana.
As a professional musician, Pritam has over 30 years of experience in the music industry and has taught thousands of students all over the globe: through performances, workshops, seminars and classes to infants through to Post Graduates, including teacher training courses.
Pritam has worked with a number of major organisations and is an experienced Project Manager, Fundraiser and Programme Manager having organised a number of large-scale open air events.
He has accompanied and recorded with an array of master musicians: touring extensively through the 90s with sitar maestro Pt. Shalil Shankar, a senior disciple of the legendary Pt. Ravi Shankar and part of the Nitin Sawhney trio.Pritam has worked on projects with The Royal Shakespeare Company, Birmingham Royal Ballet, Birmingham Opera, Akram Khan, Nahid Siddqui, Birmingham Music Conservatoire and West Midlands Music Services. Pritam has composed music for many artists including radio and television and has received numerous accolades for his work.
Pritam holds a Post Graduate Degree in Philosophy (University of Birmingham) and two Masters Degrees: in Indian classical vocal and percussion, both 1st class with honors with Ravi Music College an affiliate of Pracheen Kala Kendra, Chandigarh University – Punjab.
We are very fortunate to have the guidance of Smt. Kankana Banerjee. Kankana Banerjee (born April 19, 1946) is an Indian Classical singer who trained under the tutelage of Indian classical vocalist Ustad Amir Khan in Lucknow.[1] She has received several accolades and awards for her contribution to Hindustani classical music, including the State Government of Andhra Pradesh felicitation "Andhra Ratna Award (Kala Saraswati)" presented by Mother Teresa in 1987.
She was born in Bengali, to an affluent family in the city of Calcutta. Her mother, Mandira Chatterjee, was a disciple of Tarapada Chakraborty of Kolkata and Shrikrishna Narayan Ratanjankar of Lucknow. Her grandfather was Radha Kamal Mukherjee, sociologist and former Vice-Chancellor of the University of Lucknow. Kankana Banerjee began Hindustani Classical music training early in her career under the influence and supervision of her mother. In 1955, she began training under Ustad Amir Khan, who hailed from the Indore Gharana. She gave her first public performance at the age of fourteen in the year 1960.
he performed the Darbari Kanara 'Tarana' created by Ustad Amir Khan in the style of Amir Khusrau (HMV studio, Bombay). The track was published by HMV on a special record 'Multifaceted genius of Amir Khusrau'. It was released to commemorate the 7th Centenary celebrations of the poet. Kankana Banerjee became a disciple of Pandit. Pratap Narain who belonged to the Mewati Gharana. She has received numerous accolades during her career including the "Kala Saraswati Andhra Ratna Award" from the Government of Andhra Pradesh, presented to her by Mother Teresa. She has also worked as a playback singer, recording songs based on classical ragas for the films Ram Teri Ganga Maili and Id Mubaraq.
Afzal Hussain was born in Datia (MP), in a family of musician on 9th June . He was interested
in music from early childhood. He received initial training of vocal music from Ustad Mehmood Khan (his grandfather). Afzal received training in Dhrupad vocal under renowned Dhrupad vocalist Ustad Zia Farid-ud-din Dagar and Ustad Mohi-ud-din Dagar (Rudra veena Maestro) through the guru shishya parampara at Dhrupad Kendra Bhopal. The same was done under the scholarship received from Ustad Alla-ud-din Khan sangeet kala academy Bhopal (Govt. of MP).
Today Afzal is considered to be one of the finest Dhrupad singers of young generation and has imbibed the deeper aspects of Dhrupad tradition. He has also been awarded national scholarship by HRD ministry Govt. of India 1994 to 1997. Along with A.I.R. Afzal has also performed on Doordarshan. He has also composed music for several productions of The MGM sangeet academy Aurangabad (MH). At MGM he has taught music as a Guru for 4 years.
Presently Afzal Hussain is the president of NAAD Foundation where he teaches Dhrupad classical music through the Guru Shishya Parampara. He has also worked as a GURU in sangeet Gurukul (Govt. of MH) Ambejogai from 2004 to 2008.
Malyaban Chatterjee is a prominent name in the arena of classical music. He inherits a grand musical heritage starting from Pandit Shiv Kumar Chatterjee, his Grand Uncle and a well known vocalist, of his time. Malyaban got an extensive khayal training under the eminent vocal exponent "Pandit Manas Chakraborty " of "KOTALI GHARANA"
Malyaban has recently received the prestigious "JADUBBHATTA AWARD ". He has
been performing in All India Radio at the tender age of only Nine Years and was also
selected as an Artist, to sing in the Akash Bani Pujar Gaan under the renowned directionof the well known Pandit V. Balsara. Malyaban Chatterjee also performed consecutively for 17 years 2003 to 2019 in the United Kingdom, in several esteemed Concerts and was highly applauded and deeply appreciated by the Audience and Spectators. Some of these Concerts were broadcasted by BBC. "BARRACKPORE SANGEET SABHA" is the brain child of Malyaban for promoting Indian classical music since last 6 years , which has been one of the successful music conference in India at present .
Malyaban Chatterjee's recent performances are innumerable but a very few important amongst them are mentioned below :-
1. Saptak Music Festival (Ahmedabad)
2. Annual Conference of West Bengal State Music Academy.
3. Annual conference of Uttarpara Sangeet Chakra
4. Ustad Allauddin khun Sangeet Samaroh (Maihar)
5. Nehru Center (London)